Joshua E. Danley has a tight schedule. Working in a hospital, his days and nights are intense, with Covid-19 on top. But there are his two sources of energy: his family. And Pelikan pens.
Joshua is a fountain pen enthusiast: In 2014, he started his blog The Pelikan's Perch. Reasons enough to speak to Joshua about his life and his (Pelikan) pens – during Covid-19. And in general.
Joshua, your blog The Pelikan's Perch is a treasure trove! When did pens become your passion?
I have always had a deep appreciation for all things analog but it wasn't until I graduated medical school in 2009 that I became especially interested in trying out a fountain pen. I had no experience with writing with one prior to that. I was fortunate enough to have been gifted a Waterman Expert by my in-laws. I was so excited to ink it up but it quickly became clear that I had no idea what I was doing. After a few weeks of frustration, the pen eventually hit the back of a drawer, relegated to an unpleasant memory. I didn't think about fountain pens again until 2012 when a flyer from a company selling pens randomly landed in my mailbox. On a lark, I decided to give fountain pens one more try. I ordered a yellow Lamy Safari and very quickly thereafter a yellow Pilot Vanishing Point. This time around, I decided to arm myself with some actual knowledge and found the Fountain Pen Network online. Significantly more informed than my first go around, I instantly fell in love with the way the pens wrote and how they seemed to glide across the paper on a river of ink. I've been smitten with fountain pens ever since.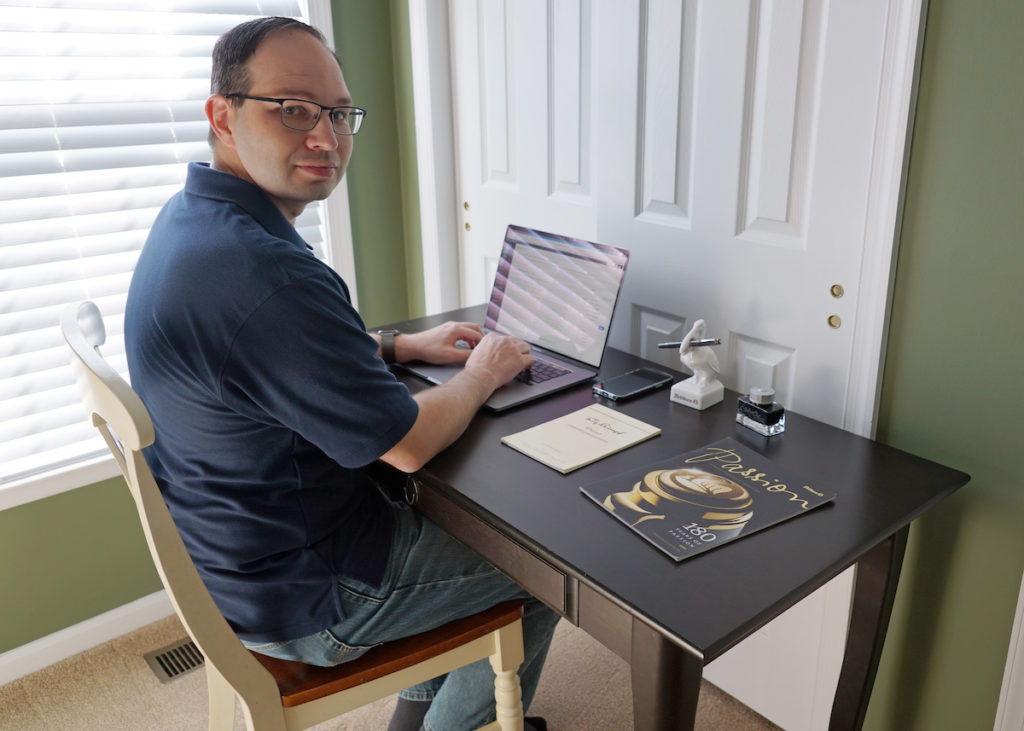 I rapidly developed an interest in multiple brands and explored different filling systems. It gave me a large breadth of experience with analog writing implements.
I was very much enjoying the great variety available when I happened upon a deal for a slightly used white Pelikan M205 in 2013. When it arrived, I knew that I had found my true love.

Joshua Danley
The size was perfect for the pocket and its balance superb when posted. The classic styling struck me as beautiful. Once I started to explore the company's rich history, I was hooked and haven't looked back since. I started to sell off the other pens in my collection to make room for my ever expanding flock. But I have still kept my Lamy Safari and Pilot Vanishing Point for sentimental reasons.
Was it an obvious conclusion for you then to start your own blog?
I was studying for my internal medicine boards and would take breaks to explore the history behind the pens I had collected – a way to take my mind off the work. I found so much great information. But it was scattered across the internet. It took a lot of time to piece it together into one cogent account. I was doing it for my own edification but began to question whether others might share my same interest and frustration. So I had the idea of creating a home online for like-minded individuals – a repository of articles taking a deep dive into what is known about these models and the company's history. The Pelikan's Perch launched on September 1, 2014. It continues to go strong now six years later.
You're a pulmonary and critical care physician. How is your work situation right now?
I work at Riddle Hospital, a community hospital in Media, Pennsylvania, a suburb of Philadelphia. Here, I practice pulmonary medicine in both an out-patient and in-patient setting as well as critical care medicine in a 14-bed I.C.U.. In fact, I have been the medical director of the I.C.U. for the past three years. There is always stress being a provider within a private practice. Critical care is not without its challenges on a good day. All of those stressors have been significantly increased with the arrival of the coronavirus pandemic. Volume is high, acuity is high, and mortality, while not nearly as high as what we experienced with the first wave, is still an ever-present reminder of just how deadly this virus can be for some. We have exponential community spread occurring right now. I'm sure that we will see the capacity and limits of the system further tested.
It must be hard right now to find spare time for your work and your hobby.
Computers have taken over so much of medicine that there isn't much room left for writing. The only time my pens get to come out and play is when jotting notes. Sometimes when in the exam room with my older patients, I'll pull out one of my pens to jot some instructions and they'll marvel at my use of an "ink pen". It's a shame that there is so little writing left in medicine.
Does your passion for pens play a role for your daily job?
It plays an indirect role in my daily job. Work is incredibly stressful. I use my pen hobby and blog as a way to decompress. It provides me an escape that allows me to not think about work for a brief time. It has given me enough perspective and restoration to keep going despite the darkest of days. The support of the community has been tremendous as well. One thing that differs now with the pandemic is that I do not bring my pens into the hospital any longer whereas that was a daily occurrence since I started using them regularly in 2012. My current concern is purely infectious and I worry about safely being able to sanitize my pens after use without damaging their finishes. So the pens stay home where they are less likely to be contaminated and therefore less likely to hurt me or my family.
How much time do you spend writing or testing pens?
I work anywhere from 10 to 14 hours per day depending on how busy it is. Then I come home to a young family. I have a lovely wife along with 2 and 7 year old boys who are a handful to keep after. I'm constantly torn by the fact that they see their daddy so little. I try to spend as much time as I can with them so the only time left for writing, pens, and blogging is usually during my occasional weekends off or late at night. I'm often amazed that the blog comes off as coherent as it does as I'm usually pretty punchy when writing from a lack of sleep. But I make time for it because I enjoy it. Thanks to the pandemic, I'd say I spend 5-8 hours on pen-related stuff per week.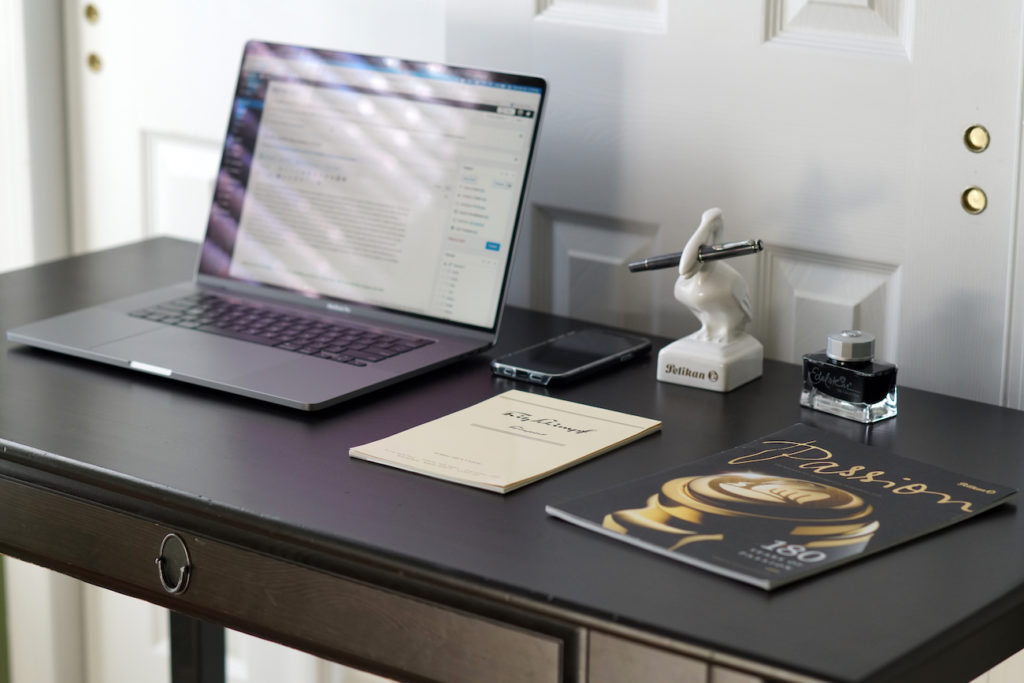 What does writing mean to you?
I do not write like I would like. I once kept up with pen pals across the globe with 5 or 6 people that I enjoyed corresponding with. That fell to the wayside many years ago. I still use the pens to sketch out ideas and to jot notes to myself. I do not get to write as regularly as I would like but when I do, it is always an enjoyable experience that seems so much more personal than this digital construct in which we live today.
Are there other persons you exchange your knowledge with? Collectors or pen professionals?
I do attend pen meet ups intermittently as my schedule allows. Before the pandemic, I would attend 2-3 fountain pen shows each year, ones closer to home. Of course, there was also the Pelikan Hubs event prior to this year which I regularly attended. These were always great occasions to meet with others and share knowledge. I have even been invited to speak at a few clubs over the years, more recently in a virtual format, which has been enjoyable. The blog has allowed me to meet people from all over the world and exchange information in ways that would have never been possible before. I get regular correspondence from around the globe and truly enjoy the exchange of information and the opportunity to help others out.
Which is your favorite Pelikan pen? And why?
Asking about my favorite Pelikan is like asking about my favorite child. It's a tough question to answer because I love them all in different ways. The great thing is that there is a lot of variety to suit any taste or task. I'll give you my top four for today (and if you ask me tomorrow, I'm inclined to pick a completely different set of pens):
The Toledo has always been my grail so first on that list would be the yellow M910.
After that, The Spirit of Gaudi is so unlike anything that Pelikan has done before, it wins a top spot on whimsy alone.
After that would be the M200 Snakeskin, a white whale that I hunted for 5 years before acquiring.
Finally, the M1000 Green Ray is just stunning to behold thanks to the Raden technique. There are so many other great models that could make the list but there you have it for today.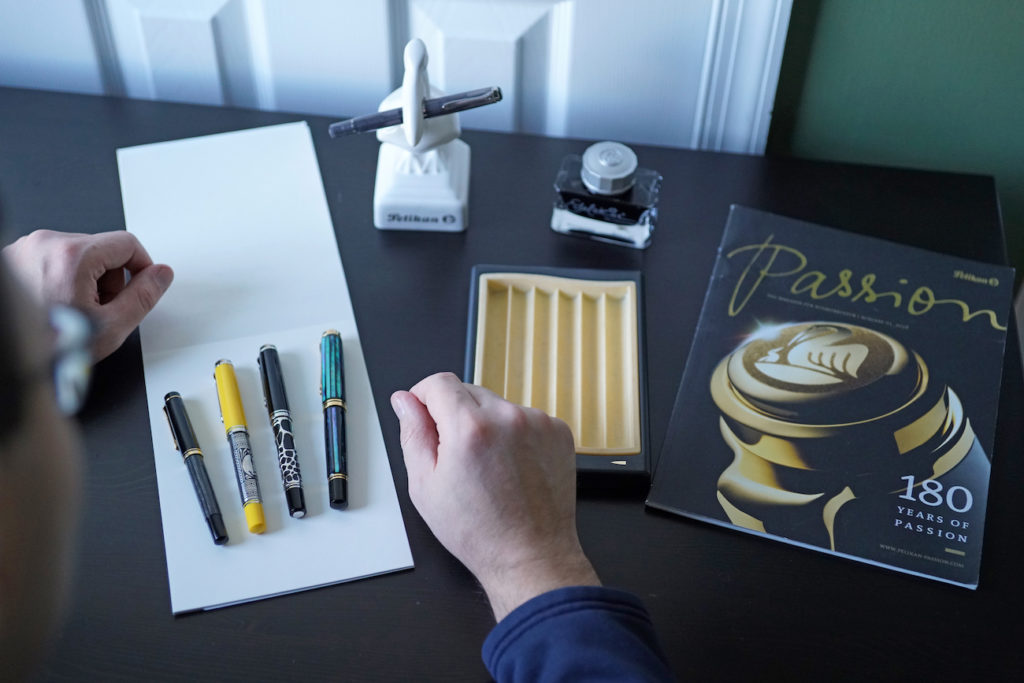 Which pen would you recommend a newbie when it comes to pens? And which is the best for a person with some knowledge?
A novice to fountain pens would do well with something in the M2xx line. The standard sized pens with gold plated stainless steel nibs are reliable daily writers that have Pelikan's classic looks and piston filling mechanism. If someone was more interested in vintage pens, than a 140 or 400NN are the ones that I most frequently recommend. The expressive character of the nibs tend to lend a lot more joy to the writing experience. For someone more experienced, I would recommend they dive into Pelikan's back catalog of vintage pens without reservation. Models like the 100 and 100N remain as dependable today as when they were when produced with just a little bit of maintenance and upkeep.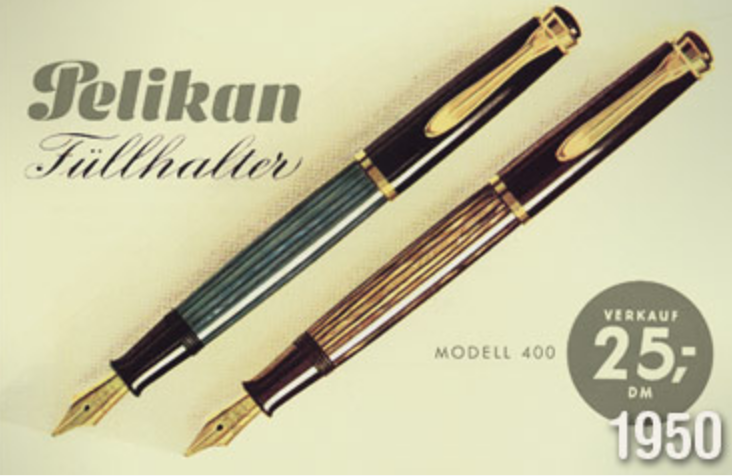 The festive season is near. Will you be writing holiday cards? Which pen will you use?
Holiday cards fall to my wife and she is quite good at it. I admire her organization and she does a great job of ensuring that no one close to us gets left out. Sadly, she has never been bitten by the fountain pen bug and seems thoroughly resistant to any attempts to bring her into the fold. She lives happily in her ballpoint world and that is how our holiday cards will be signed this year. Perhaps if I had more time, it would be my M800 Tortoiseshell Brown with an italic broad nib which is alway a joy to write with for these special occasions.
Thank you, Joshua. Take care and stay healthy!

Further information:
Joshua's blog The Pelikan's Perch – and his Instagram
Pelikan "High Quality" Writing Instruments
"Penexchange" Forum for Pelikan Pen Collectors