Her store in New York City, Lower East Side, is already an icon: Caroline Weaver is the owner of "CW Pencil Enterprise" in Orchard Street. Here, she sells pencils and everything that belongs to them. Her pencil passion began in childhood when she got "Prismalo" pencils (Caran d'Ache) as a present. It was the starting point of a real joy. Later, Caroline studied Art Practice at Goldsmiths College, London, opened her shop in 2015 – and wrote a book on the pencil (2017). Whoop! I really had to talk to her.
Pencil passion! An interview.
Caroline, are writing and sketching parts of your life?
I grew up in a creative household and went to art school, but mostly I use pencils for every-day tasks – sketching out ideas, writing in my journal, making to-do lists. All of the little things.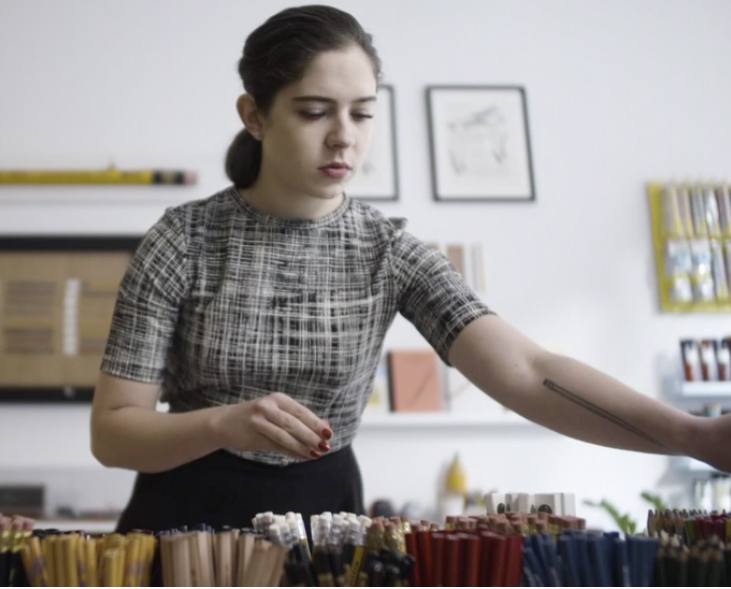 When did you decide to run your own pencil business?
The idea for the shop came about 7 years ago but mostly as my ultimate fake dream job. It wasn't until 4 years ago that I started thinking about it seriously and realized that it could actually be a real thing. I started doing research about a year before we actually opened to make sure that I got everything just right.
You sell a wide range of pencils at your store in Orchard Street, New York. Who are your clients?
Our clients are all types of people – musicians, writers, copy editors, artists, children, but mostly people who appreciate analogue tools and writing the old school way. A lot of our customers come in for looking for something very specific or to solve a specific problem, which we are always ready to help with. We're lucky becuse the type of people who come into a pencil shop are never grumpy and never mean, they're always happy to have found a shop like ours and are always a pleasure to work with.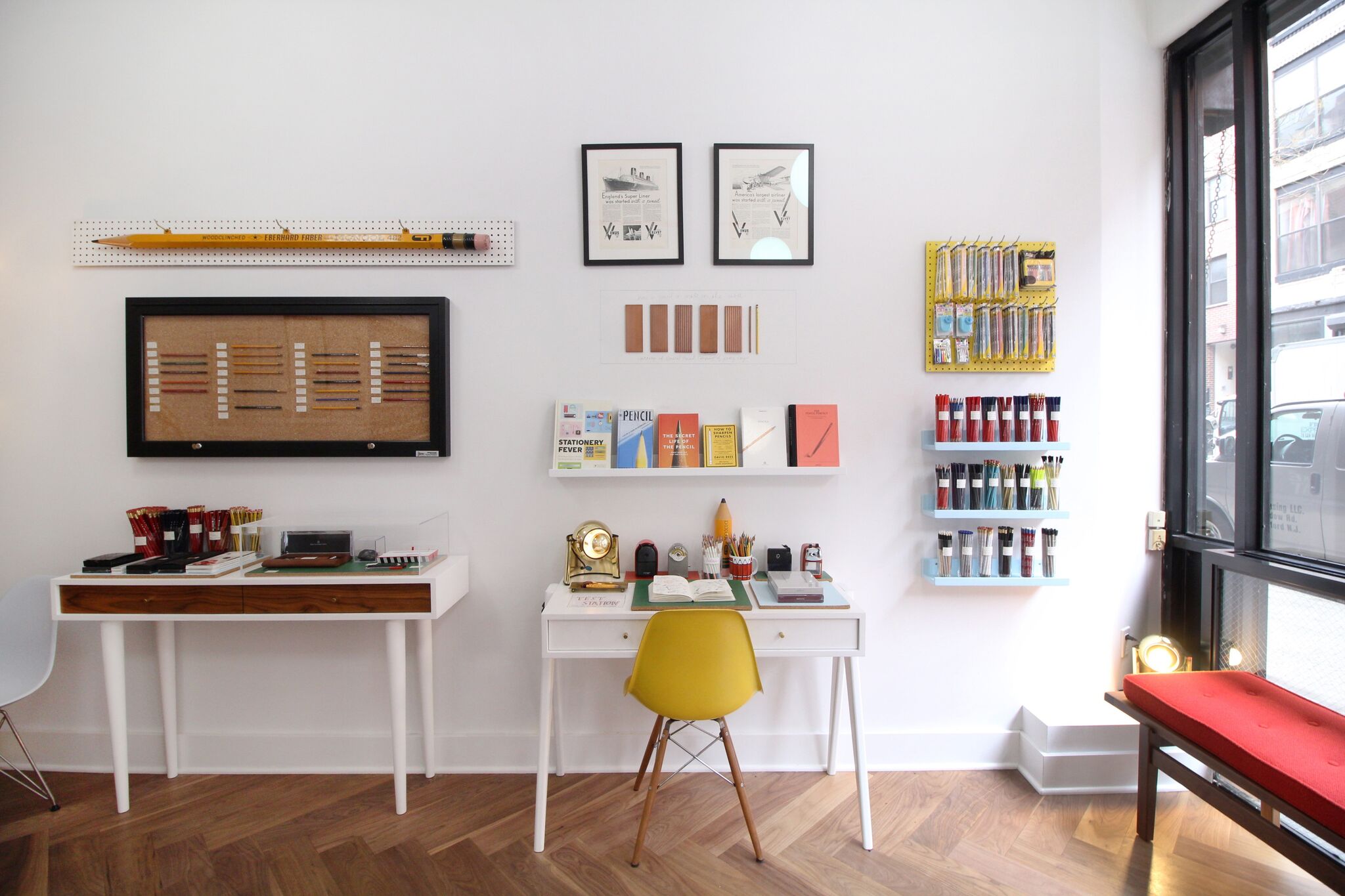 Which pencil quality is your personal favourite and why?

Personally I prefer a B grade or something similar. I like my pencils to be a little soft and smooth but not too smudgy since I'm mostly writing with them. Some harder Japanese pencils are great because they look and feel like a soft pencil but behave like a hard pencil.
The pencil colour of your choice?
I use a lot of Vermillion pencils. A rich red/orange is my favorite color and is just a less aggressive version of a true red for editing things or taking notes. I actually designed a pencil for Caran d'Ache that's called the Editor that's half red and half graphite, it's my favorite pencil.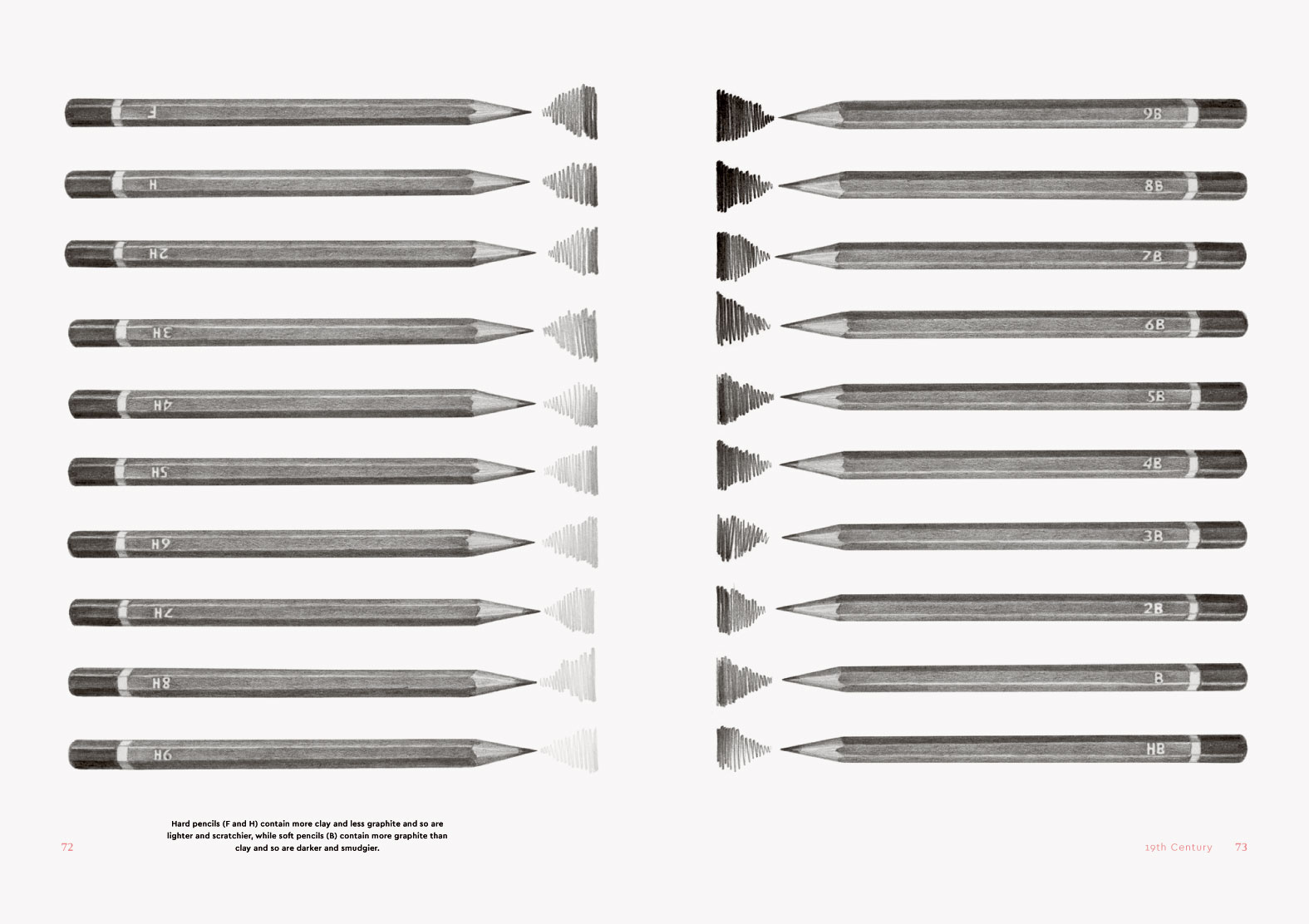 Your favourite pencil brands?
Caran d'Ache is one that I grew up worshipping, so it definitely has a special place in my heart. I also really love General Pencil Company, they're the oldest American pencil company left and are family owned and near NYC–they make really lovely things. Japanese pencils are such amazing quality, Tombow is a great brand for super exquisite pencils that are also well designed, especially the Mono 100.
Is there a story, a secret linked to the pencil which fascinated you?

My love of pencils started with a tin of Caran d'Ache colored pencils that my mom gave me when I was about 6 years old. It was that tin that spawned my fascination. Over time I started to learn bits and pieces about pencils from different places and their histories and it just kind of naturally became my thing.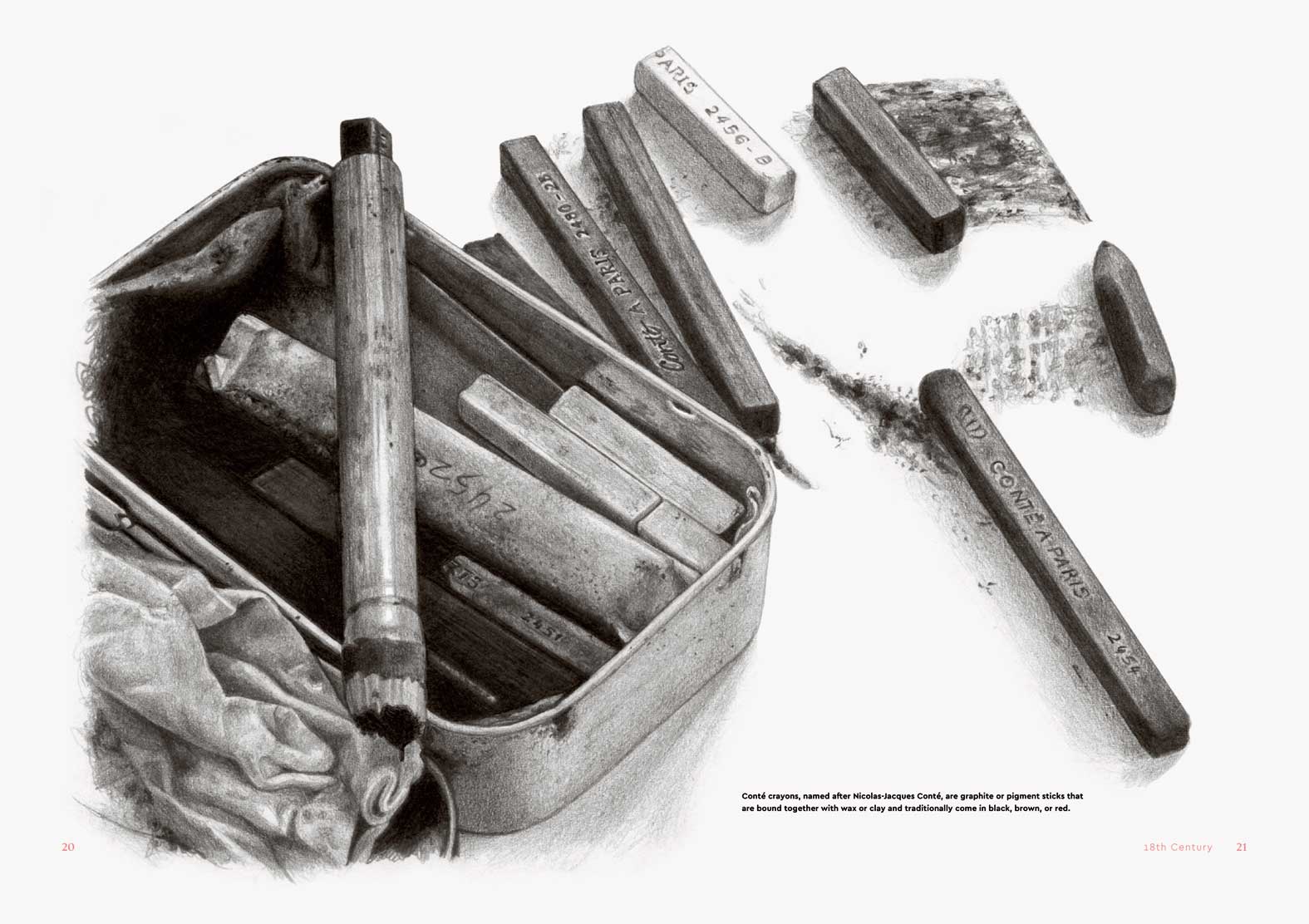 When you write, which paper do you use?

I spend a lot of time with my day planner, for that I use a Smythson Soho Diary. For work I've been loving Shorthand notebooks by Iron Curtain Press, a Los Angeles based letterpress company. Midori also makes amazing paper goods, I love their MD Notebooks.
Worin transportierst Du Deine Bleistifte, wenn Du auf Reisen bist?

When I travel I always bring a pencil case with 3-5 pencils including one colored pencil, a small portable sharpener, an eraser and a pencil extender. I like to use a big case by Nähe because it's plastic and can be wiped down if it gets messy. I like to keep it pretty minimal. It's it's a work trip I'll bring whatever notebook is necessary, if it's a leisure trip I'll bring my travel journal which is made by Shinola.
Which country has a wonderful pencil history?
Maybe I'm biased but I think that US has the most interesting pencil history. A lot of it is deeply rooted in the industrial revolution and in family members of European pencil makers who came to the US to take advantage of all of the cedar. I like to say that the Germans invented the pencil but the Americans perfected it. Unfortunately there aren't many pencil makers left in the US, the reasons for which have a lot to do with globalization, which I think is an interesting part of the story, too.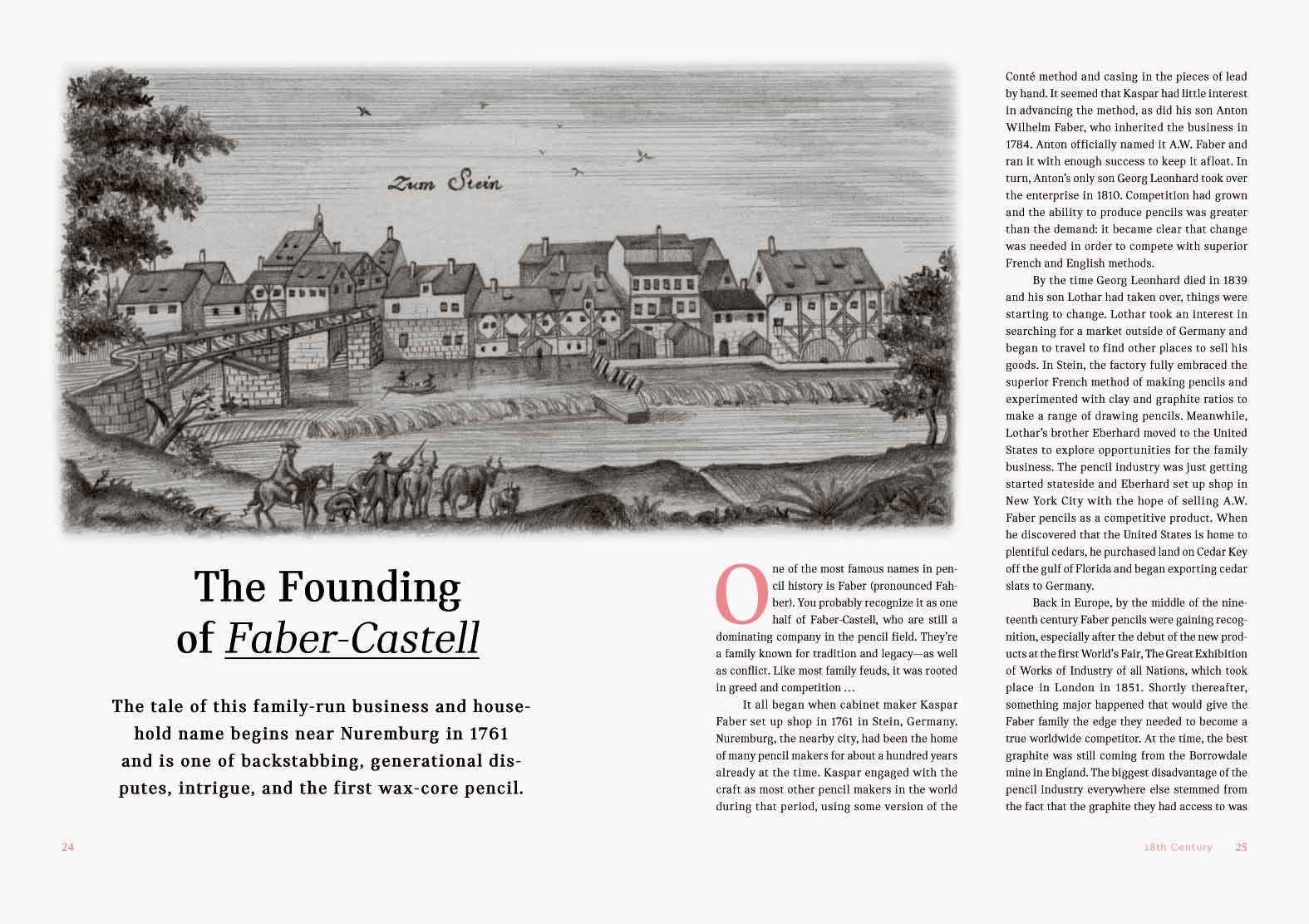 Caroline, are there any exciting pencil plans for 2018 we should know about?
We've got a couple of new products coming out this year and are going to be hosting more events in the shop but to be honest, I'm content with the way things are. I don't ever want to own more than one shop–I'd rather just commit myself to one perfect shop and that's it. I think this whole thing would lost its joy if I tried to grow it too much.
A recommendation for pencil newbies?
It really depends on what hand you use to write, what you're doing with your pencils and what your personal preferences are. We make sampler sets for a lot of different things, but a good place to start is with a solid HB, maybe a Japanese one. We give a lot of recommendations for newbies based all of things they tell us about how they use their pencils.
Further information:
CW Pencil Enterprise, 15 Orchard Street, New York, NY 10002 – USA
The Pencil Perfect. The Untold Story of a Cultural Icon, book, gestalten 2017, 29.90 Euro