He was a preschool teacher and social entrepreneur in Hamburg, Germany when he discovered the joy of craftsmanship: Frank Pressentin changed careers – and now makes his living from fountain pens made in his manufactory, "Elbwood". A talk on clients from around the world, special materials, challenging times, and the necessity of breaks.
Judith Schallenberg (The Bartleby): Mr. Pressentin, shortly after the outbreak of the Ukraine war, you and your company "Elbwood" launched a special edition, the "Pocketmaster" fountain pen in muted national colors, on the market in return for donations. How did this happen?
Frank Pressentin (FP): It was penmaker Jason Miller from Houston, Texas, who came up with this idea. I came across it on his Instagram account. That was five days after the war began. It was the end of February, 2022. Miller organized a charity campaign: He offered raffle tickets for a fountain pen in the colors of Ukraine. Thus he raised about $1,700 in donations for the country right off the bat. I contacted him, was allowed to hijack the idea. In turn, other penmakers from around the world did this, too. A movement was born. In a two-night action, I also crafted two special "Elbwood" fountain pens. I offered raffle tickets for ten Euros each as part of a charity campaign on my website and distributed the news in my social channels and shared it with friends.
The Bartleby: Finally, 7,000 Euros in donations were collected. How did you experience this time?
FP: Something gained momentum. Known bloggers of the penmaker and pen collector scene approached me, as did strangers who liked the fundraiser, friends, acquaintances and artisans from my circle. I also got a lot of feedback when I put the action in my WhatsApp status. In the end, the donations exceeded the money I had invested in advertising measures like Google Ads by a factor of three. I realized: You can make a difference. You don't have to be a giant to do it. In addition, some said that my fountain pens were really beautiful writing instruments.
The Bartleby: The blue-yellow fountain pen stands out in color from your assortment.
FP: Normally, I would have hardly brought these colors together. The colors I use are more reduced. Initially, the symbolism associated with the Ukrainian national colors also gave me a headache. A writing instrument should not be symbolic of war. But this special edition was so well received that I was asked if it could be available regularly.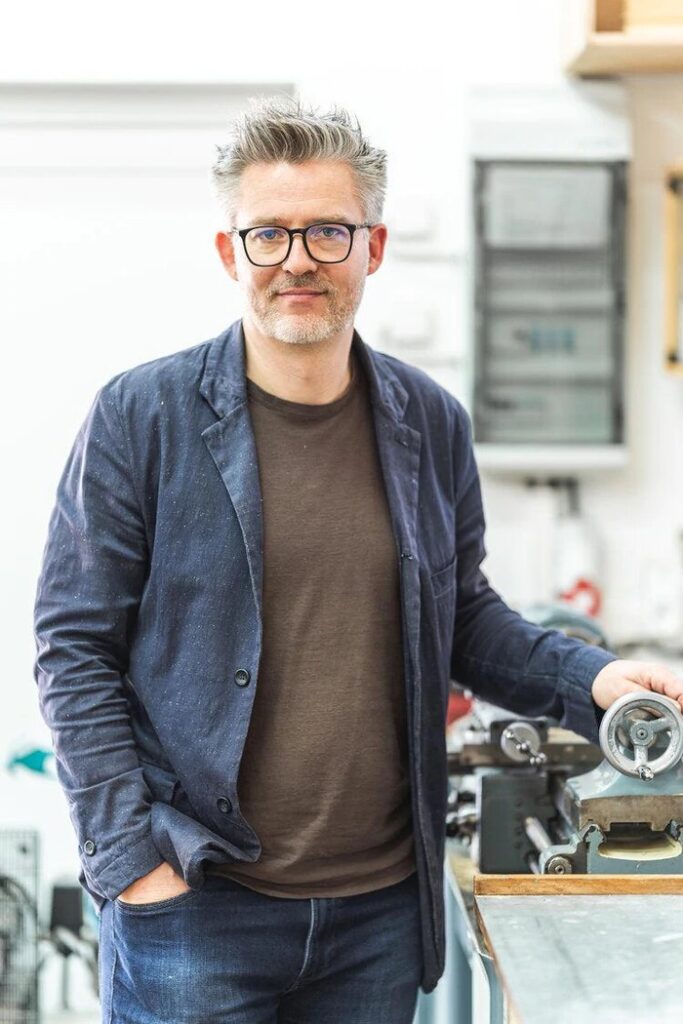 The Bartleby: In the first weeks of war, the colors yellow and blue quickly came to stand for the worldwide efforts of people for each other and for peace in Ukraine. The yellow and blue tones you chose have a certain softness.
FP: This has something to do with the material, ebonite. This is a natural material that doesn't even allow you to get a bright yellow canola color. Instead, it creates something like off-color. That's what attracted me to this material.
If ebonite is used, a small amount of black must always be added to the colors. This means that no brilliant white can be produced, and no brilliant yellow either. This color spectrum is unique.

Frank Pressentin, Elbwood
The Bartleby: Will you continue with the special edition?
FP: Maybe. I've already had many conversations about this and I am thinking. The fundraiser was an initiation spark. It drove me artistically. I realized that I wanted to do something about the speechlessness I felt. That burst out of me, and it had to be. It was good that way. In the long run, it would need a framework. I could, of course, call special editions of this kind "Peace" after your inspiration, using the theme of peace as a bridge. I could also combine my sales with donations. On the other hand, this campaign was so unique and so successful that I might do more self-contained fundraisers in the future.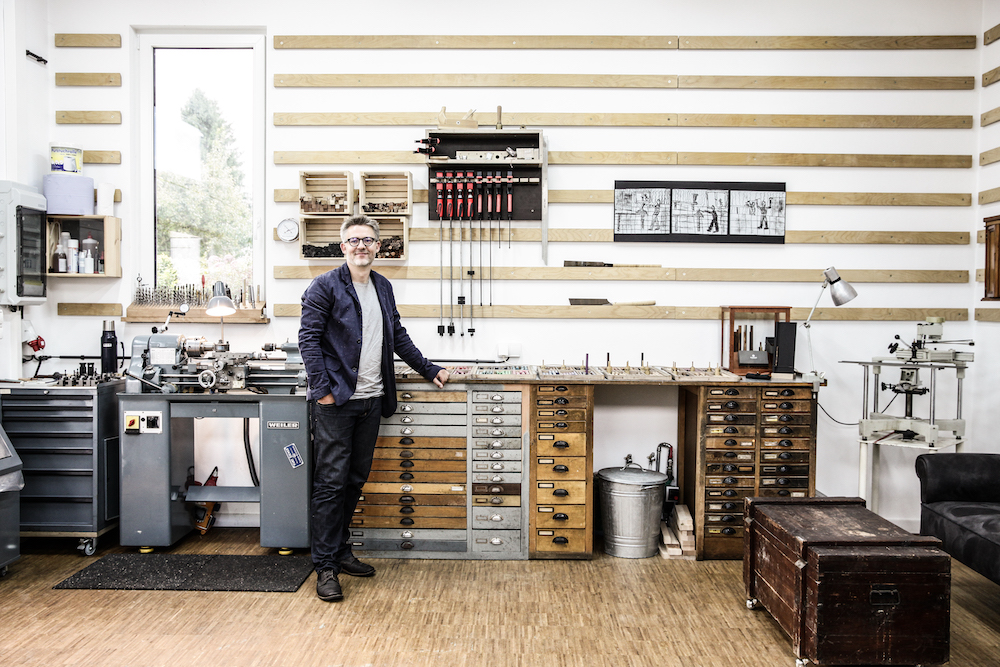 The Bartleby: A beautiful idea. Let's talk about your "Elbwood" beginnings. In 2017, you had a store in Hamburg's Hafencity for some time, "Writers' Lounge".
FP: That's a story with some twists and turns. I was an educator and social worker for 20 years, and a disc jockey as a sideline. If there's something I'm passionate about, I like to transfer it to the professional world. Together with a partner, I founded a child and youth welfare organization in Hamburg in 2008. When it became a medium-sized company, I was the managing director, no longer working as an educator. My daily work suddenly mainly consisted of Excel spreadsheets. Privately, I found compensation in the renovation of my house. Here I did a lot of things myself, and gladly. It did me good – working with my own hands. When our house was finished, I started to build a boat in my garage. But there wasn't enough space, so I did it outside on a branch of the Elbe river. When I was building the boat, I would take breaks. Then I just sat on a chair, pondering. I looked at the boat and asked myself: What comes next? There is so much joy in that. It was not only about the finished boat, but about the process of building it. That's how I came to associate: Hamburg, gateway to the world. That always means being cosmopolitan, down the river, out to sea. Adventure stories.
I thought of the captains who once recorded the stories in their logbooks. I was already thinking about books. And what are books classically written with? Writing instruments. That was my bridge of thought.

Frank Pressentin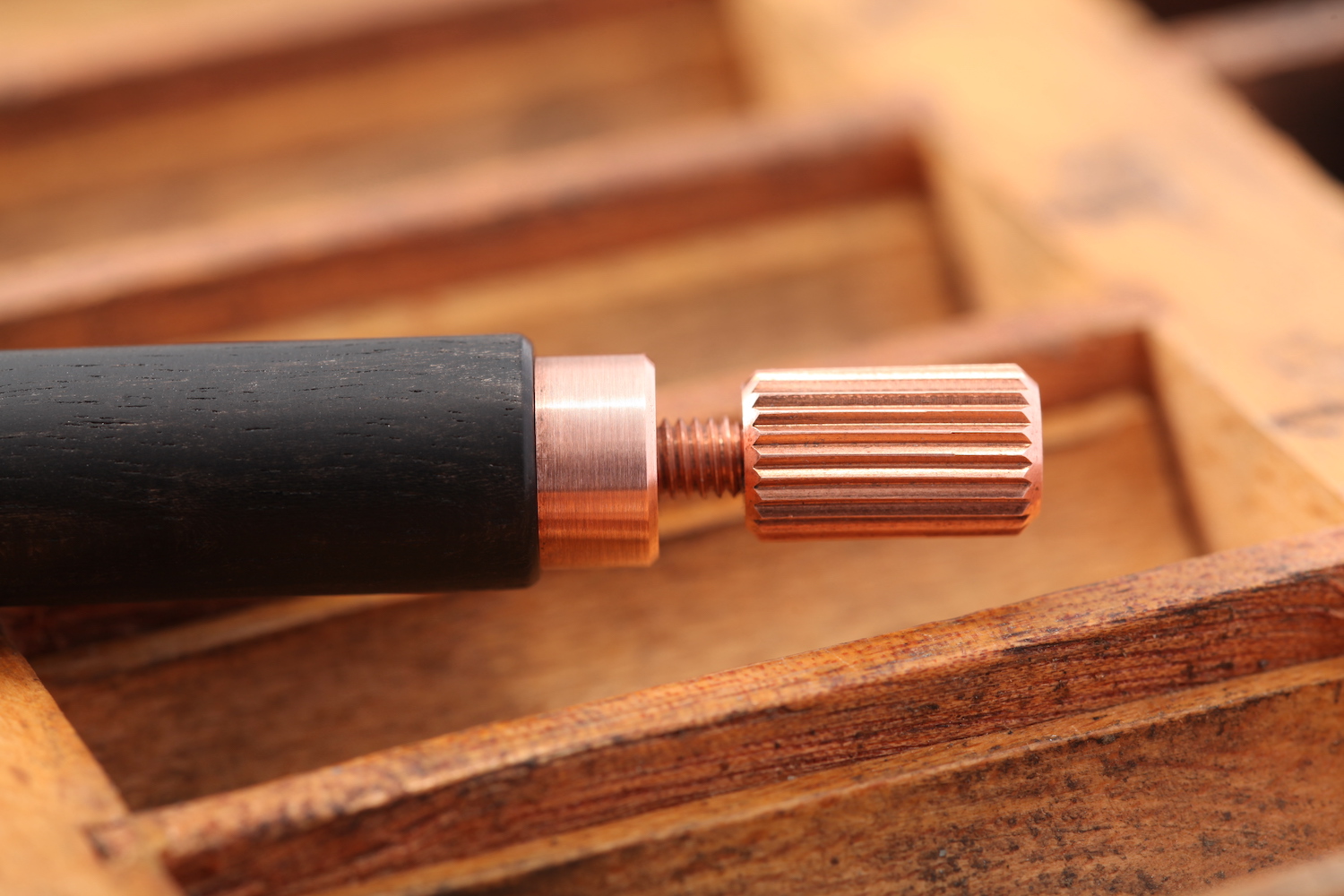 The Bartleby: So you came up with the idea of building writing instruments not as a writer, but as a craftsman?
FP: Yes. A writer I was not. Not yet. But I like to read technical literature. So I bought books on the subject of making writing instruments, watched Youtube videos, looked for teachers, attended woodturning courses. In the field of writing-utensil making, there is a scene of its own among woodturners. But the artistic limit is the prefabricated kit. The turner remains in the material wood and basically drills his holes in which the metal parts are then inserted. I found that boring, missed the precision mechanical turning: the ability to cut threads, that is, to process metal. For this, too, I found a teacher, an inventive genius in Eppendorf who builds mechanical wonder machines. He discovered writing instrument making for himself back in the eighties. A silent hero. He offered to teach me the tools of the trade. I went to him regularly after work. One day, my first ballpoint pen was ready.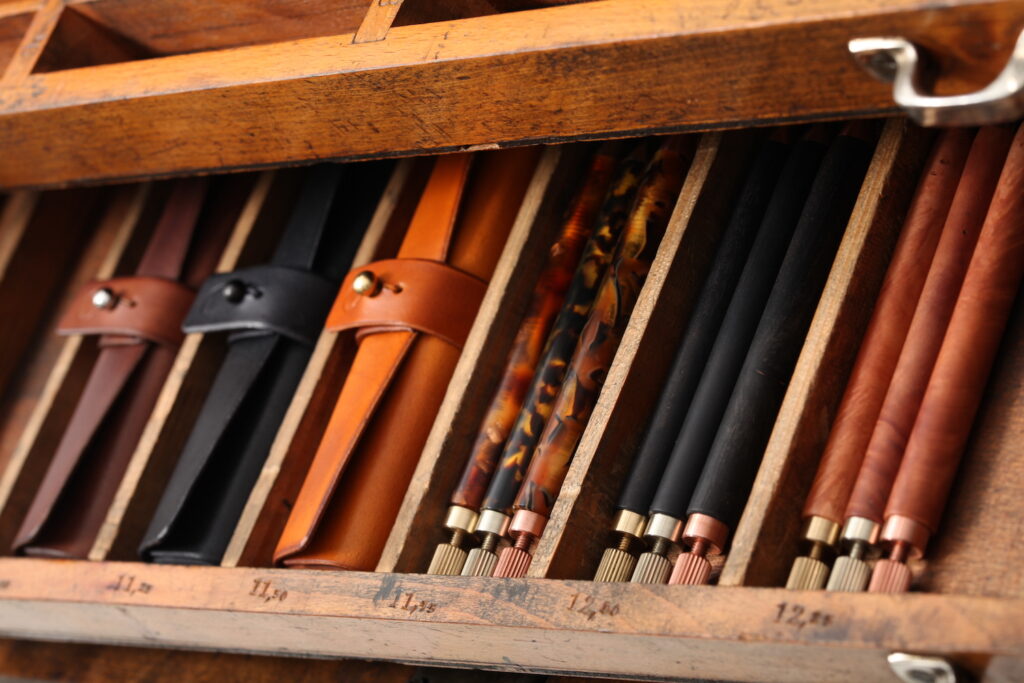 The Bartleby: How did you go from ballpoint pen to fountain pen?
FP: That took a while. This ballpoint pen, I thought, the world has to see it. It's a bit of madness that breaks through. But maybe I owe everything to it. For months later, I rented the Hafencity store – as a shop window in which I exhibited my pens. It was near Elbphilharmonie. A Hamburg cabinetmaker built the store fittings for me, reduced wooden drawers. The neighboring violin maker had an atelier with a small stage. 'I know the musicians from Elbphilharmonie – don't we want to do some concerts with them?', he asked me one day. 'They feel like making chamber music.' So they came and made music.
We invited guests. At my place was the champagne reception. 'Whoever wants to write the score needs a pen from me, and whoever wants to play it needs a violin from next door,' I said jokingly.

Frank Pressentin
Soon a series of cultural events with music and readings was created. Literary figures like Dimitrij Kapitelman and Isabel Bogdan and also poetry slammers joined us. It was great. But balancing a workshop, a family, and a company that helps young people demanded a lot of me.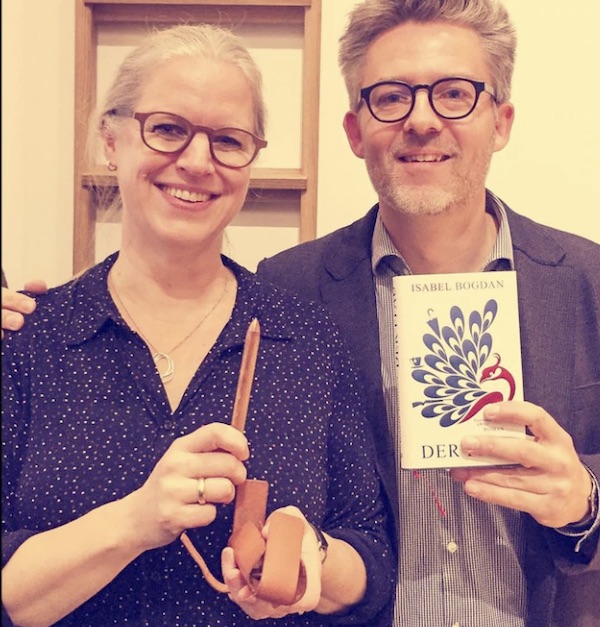 The Bartleby: So, in addition to "Elbwood", you continued working as executive director of your youth services company.
FP: Exactly. Everything happened at the same time, somehow. The thought of the fountain pen also came then. One day I ordered nibs made of gold for it. In 2019, as the youth services demanded more and more work from me, I closed my "Elbwood" manufactory. Soon afterwards, Corona came. I used the break to take stock: What have you done? I sorted the social enterprise to the point where an exit was possible. Then I handed it over to my partner at the beginning of 2021. In May 2021, I started again with "Elbwood".
For unique pieces, I work with rare materials and always use a special Japanese forging technique, Mokume-Gane. In a complex process, different precious metals are welded to a surface with a wood-like grain. In addition to the one-off production of my fountain pens, which is exclusive and very material-intensive, I developed a basic edition in 2021, made of pure metal. I can offer my basic "Elbwood" editions for just under 300 Euros. Their nibs are made of stainless steel. For this edition, I process a combination of brass, nickel silver, or copper with fine accents of different woods or ebonite. I have set up my studio accordingly and launched an online store in mid-November, 2021.
The Bartleby: How do people react to your offer?
FP: I hear good things. Of course, anyone who doesn't like pens doesn't understand what a writing instrument for 300 Euros or 2,000 Euros is for. However, those who appreciate writing instruments, art, crafts, applied art, like what I do. Going online with my "Elbwood" store was a big step. My products are immediately available in English and German. Customers may pay with Paypal. Since November, orders have been rolling in from all over the world. Customers appreciate the fact that they can order my products immediately. On the other hand, choosing such writing instruments is not a quick business. Customers are also waiting for an occasion to buy. My pens are not spontaneous takeaway items. I just had to adjust my prices due to the increase in raw material prices. Even this step was met with positive feedback. This shows me that the value of something special is constantly increasing.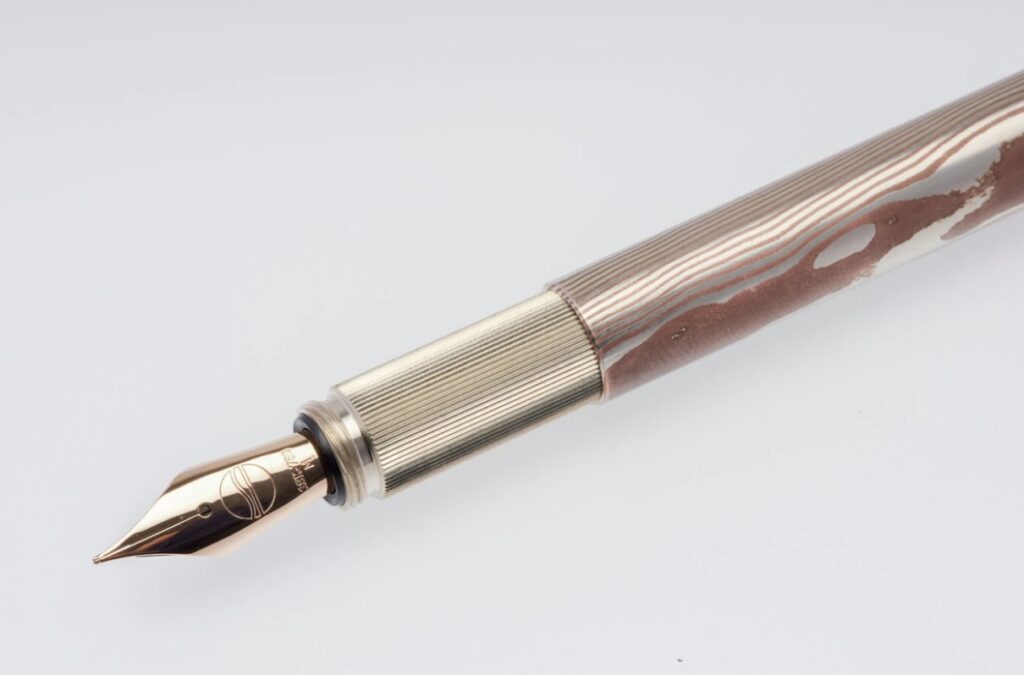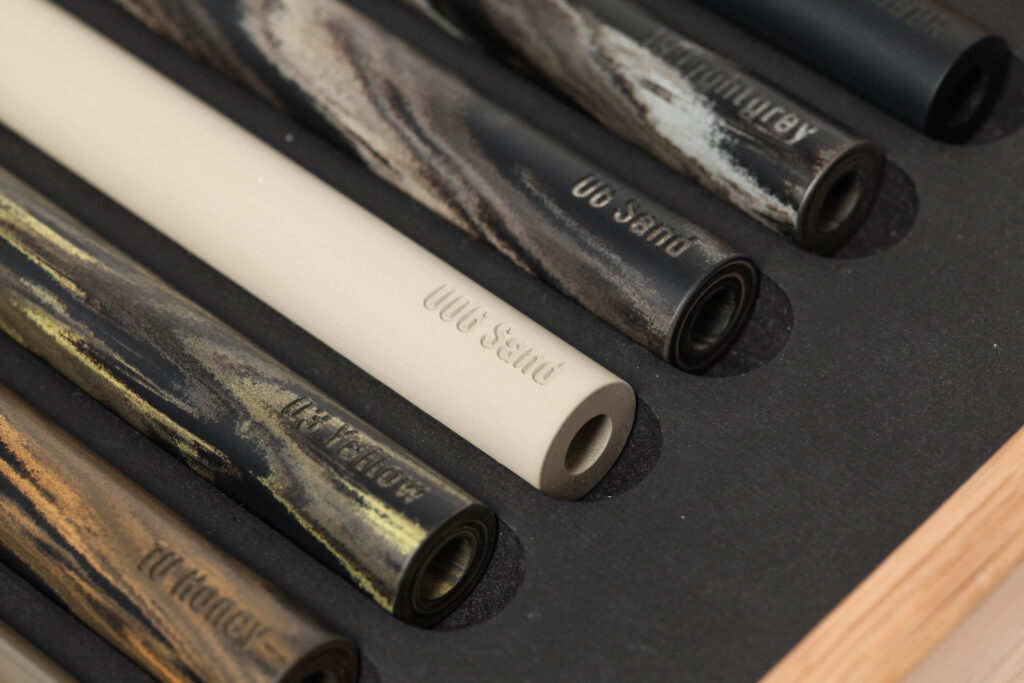 The Bartleby: To this day, many people write important things by hand. Not only signatures under contracts, but notes, letters, journals, diaries. Do you write as well?
FP: An exciting question. I got into the habit of writing and enjoy it. But it wasn't my original motivation. I was attracted to the object of the fountain pen as a time-honored and, for many, no longer necessary everyday object. I looked at it, asking myself: Are there still ways to add something new to it from a design perspective? Even to the fountain pen as a luxury and status object? What about establishing writing instruments as a form of applied art? That was maddeningly appealing to me. What I found for "Elbwood" was the path of reduction: away from even more flourishes to a form that is the stage for the material. I went a long way to find the very simple shape of the fountain pen – which works in blue and yellow, but also in black. Or just in brass. That speaks for the shape. It must be mature. If the outer appearance drowns out the form, it's not right. That was my approach. I developed my product world from that.
The Bartleby: Who are your typical customers?
FP: They are mostly in their mid-30s, early 40s. Many are from the United States. There is a big penmaker and collector scene there. Great Britain is also a big market. In addition, an astonishing number of young people in their early 20s come to me, people who at least don't know the beautiful writing experience from school. At school, the fountain pen was hardly appreciated for a long time, I think. I experience this with my son. Young people discover writing with "Elbwood" for other reasons: They want to treat themselves to something nice. But not for status reasons, to show the world what they can afford, but for themselves, to have a good time.
They write to slow down. They devote the attention to the topic that otherwise only mindfulness and downtime have. It's about feeling yourself. But my writing instruments are also in demand as an investment.

Frank Pressentin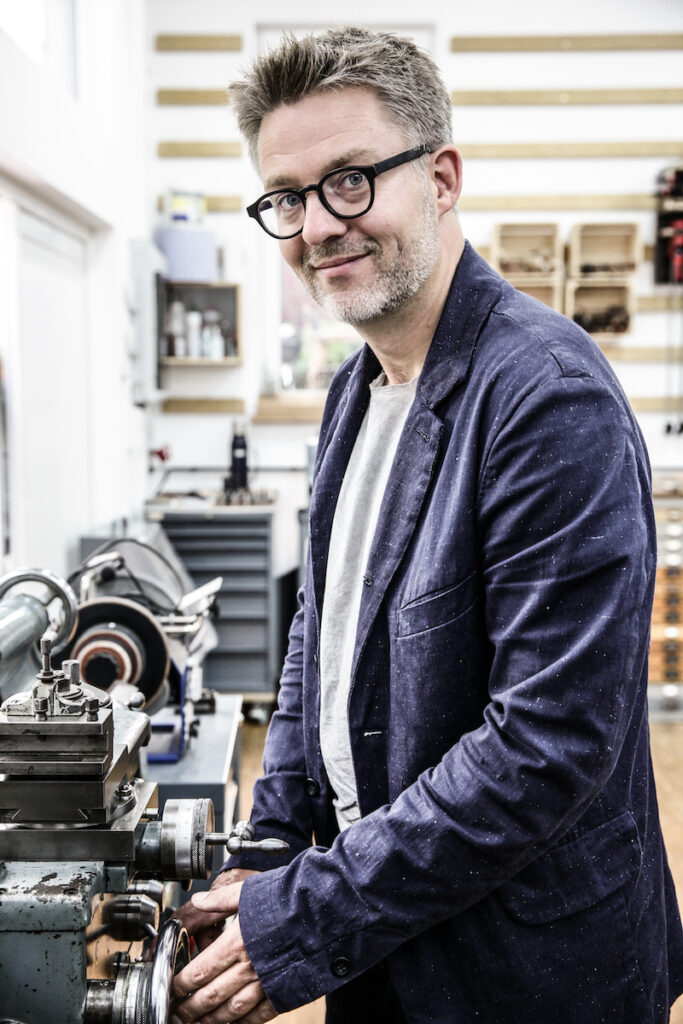 The Bartleby: In 2020, I spoke with an avid collector of Pelikan fountain pens, living in Pittsburgh, USA. He can ideally switch off from his job in his free time by taking care of his pens. Do you also get into contact with the penmaker scene?
FP: More and more, yes. In Hamburg, there is the "Pen Port", a pen collectors' fair that has been held for years. There, it's often not about aesthetics, but rather about history: What's missing? Collectors are interested in collecting traditional brands. For example, that one missing piece from the eighties when Pelikan discontinued certain colors. Those weren't my customers in the beginning. But as my own history continues to develop, something is happening here. The penmaking scene came up in the last ten years. Meanwhile, pen shows and exchanges are opening up to penmakers. Just through Instagram, there are people who collect. The hashtag #supportthepenmaker has become bigger. Collectors today often consciously support small manufacturers. Only a few stationers are focusing on this clientele. But this is increasingly coming up. Contemporary handicrafts are increasingly perceived as a substantial alternative to mass production.
The Bartleby: What plans do you have for this particular year, 2022?
FP: "Papeterie Berlin", a customer of the first hour of me, has just ordered from me. He would like to include "Elbwood" in his program. So 2022 will be an exciting year. However, I don't want to change much about my production methods. For me, the answer would be no, for example, to switch to CNC computer-aided manufacturing. That would mean losing something for me. But I can certainly optimize certain steps in my workshop in order to become even more precise in production. For ZEIT Manufakturenwelt, a part of the ZEIT online store, also wants to include my products in the program.
The Bartleby: I wish you all the best for this from the bottom of my heart! See you in Hamburg.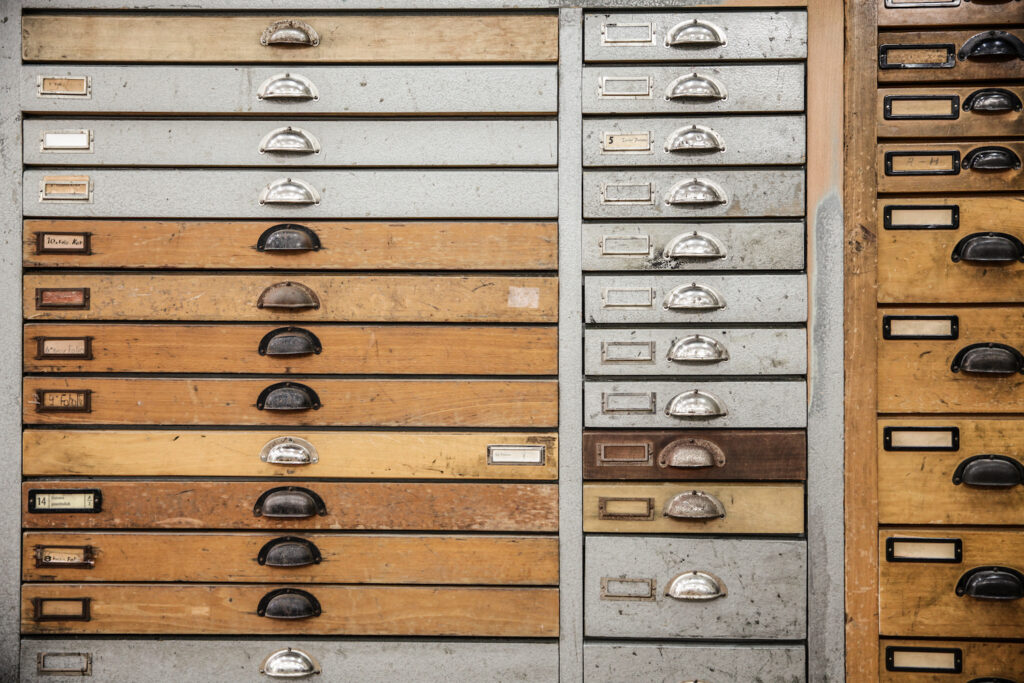 More information: