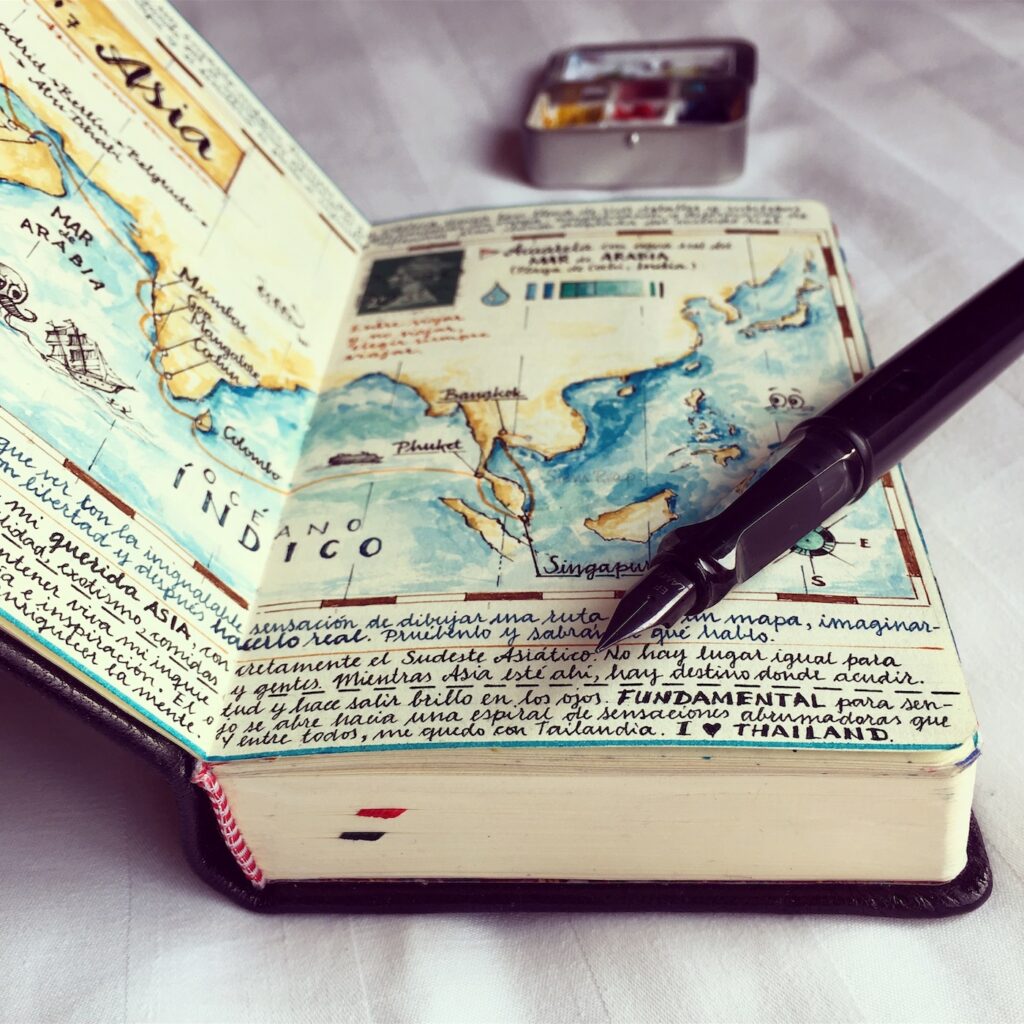 Travel, pens, and a small Moleskine notebook: that's how José Naranja from Madrid got into keeping travel diaries years ago. When the aircraft engineer showed them on the web, his artistic talent made the rounds. Upon request, Naranja made copies of his books by hand and sold them. Today he has customers worldwide and more than 200,000 followers on Instagram.
José, you're a professional notebook maker today.

What was the starting point for it?
I worked for years as airplane engineer which is a very technical work. My job was quite good to other people's eyes. However creative persons need freedom and explore new paths. That's impossible when working in an office under rules, timetable, etc. Now I use my time for traveling, thinking, exploring and notebooking. When I'm traveling all parts match as an organized dance.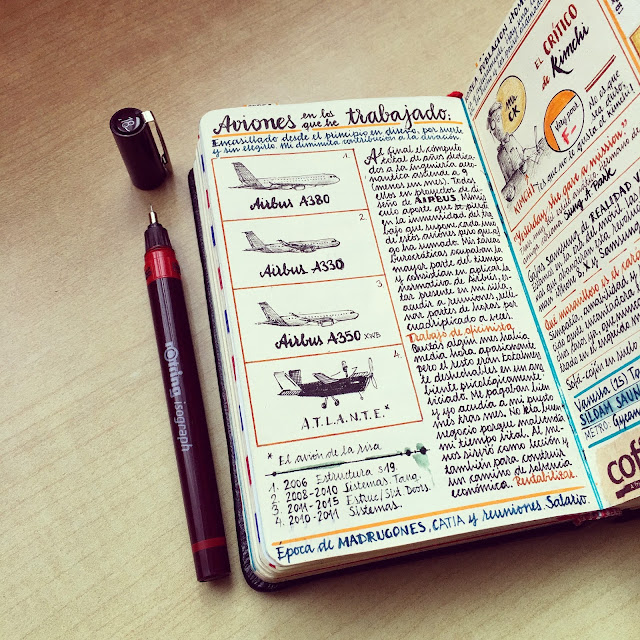 When and why did you decide to sell your travel notebooks? 
I started to sell copies of my notebooks about six years ago. It was an experiment in the beginning and it suddenly became something serious with many possibilities. Now I'm happy for that initial crazy ideal because people can enjoy those copies.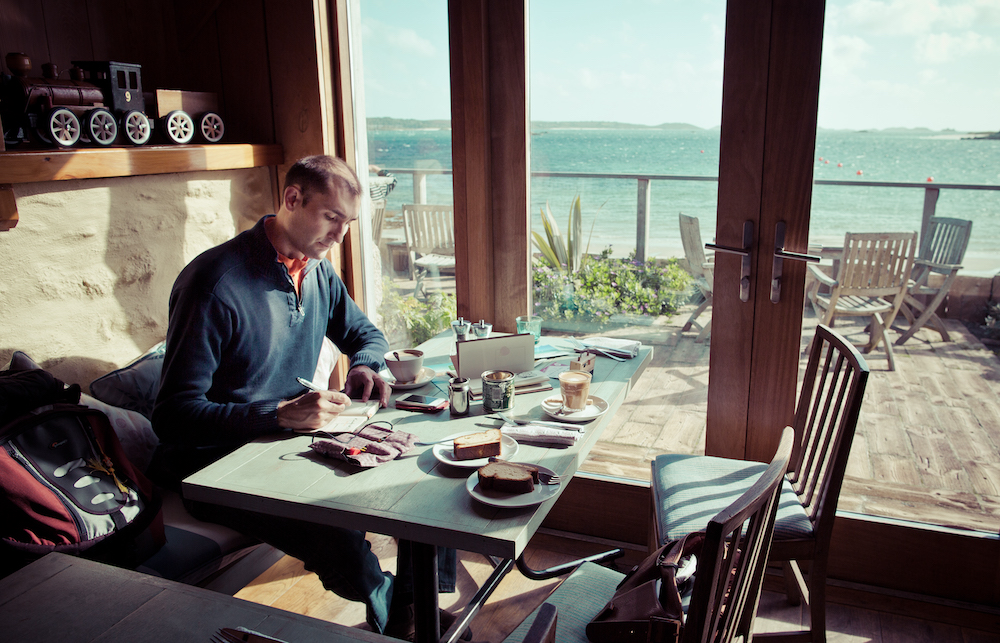 How did you spread the word – and who are your clients today?
I "spread my word" mainly through the Internet. Magically it reaches eyes here and there. Besides people from all over the world buy my notebooks. I'm always so surprised and I appreciate it a lot. The main idea of those facsimiles is people can feel the same touch than the originals in their hands. Same paper, leather cover, size, and sensations.
What was there first for you: sketching or writing?
Actually my priority are the ideas. Then I use text to develop and explain the idea and sketches or
watercolours to enrich the visual feeling. I enjoy the whole process and somehow it's always different.
Your love to Asia can be seen in your manuscripts. Would you describe which cultural and paper traditions and assets in Japan, for instance, are especially appealing to you?
I really love Asia. Japan has a huge cultural background, highly elaborated culture. I admire it and I
like it because even the simplest details are new for me and I'm happy to discover them for first time. I like from the simplicity of Ukiyo-e style (a Japanese painting genre), to the flexibility of current manga. Everything looks so exotic to my eyes. 
Which places, towns, cities do you like most in Asia?
Thailand is always in my heart. Most of my trips during the last years have been to Asia, always with
super positive experiences. If I have to choose some cities in Asia I'd pick Bangkok, Hong Kong, and Tokyo.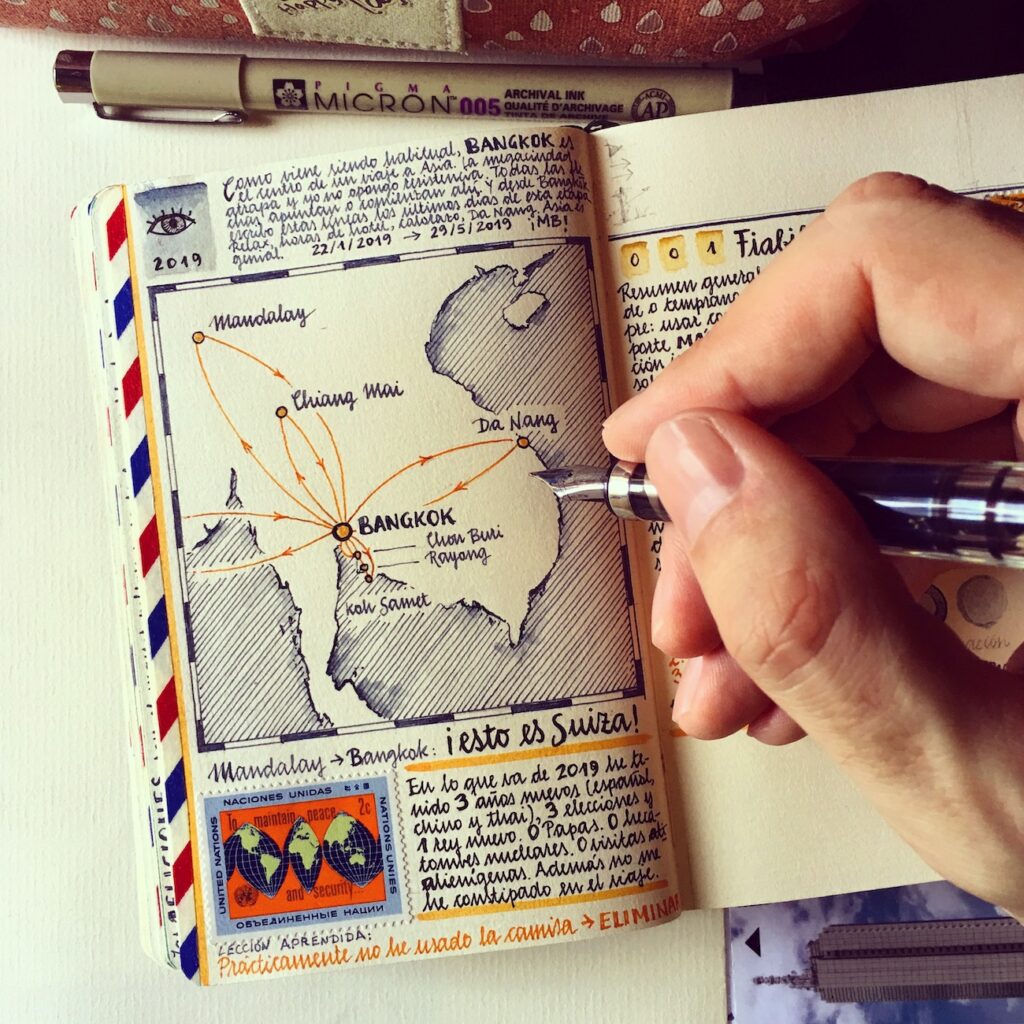 Are there writing accessories you need and always use while travelling?
I try to optimise the writing tools since I travel very light. Reliable tools like gel pens, Pigma Micron fineliners, Zebra disposable brushes, watercolours and Pentel mechanical pencils mainly. Well, it looks like most of them are made in Japan. Easy to replace in everywhere. I keep very simple tools.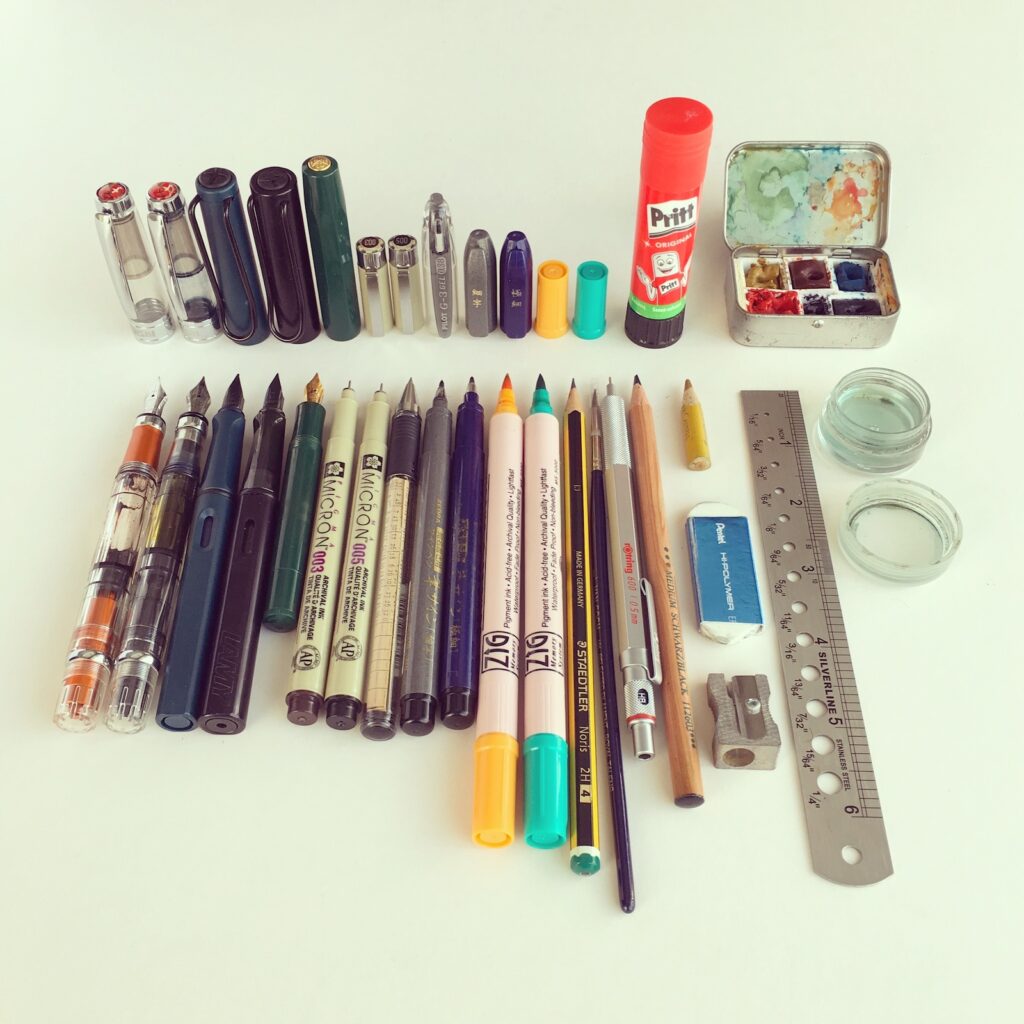 Feel free to share some nice encounters with people who share that passion for writing, travelling and sketching – and with notebooks. Is there somebody you got to know this way you would like to tell my readers about? 
Sure I've found great people thanks to sharing passion for journals. The most fascinating thing is every journal is different and I enjoy watching notebooks from other people. It's a real window to their world. To mention one example, I met Patrick Ng in Hong Kong a few years ago, someone I've always admire since the beginning of Internet, literally, and share many passions in common. Hopefully there are many more meeting in person ahead in different places in Asia in the near future.
Credit: José Naranja
Information:
José Naranja shows and sells his handmade travel notebooks online. Take a look at his blog. He offers "The Nautilus Manuscript" and "The Orange Manuscript" as well as selected prints.
Instagram: @jose_naranja
He may be contacted by Email.