It's a real gem: Christie's Paris will offer a signed first edition of Oscar Wilde's only novel, The Picture of Dorian Gray, on October 7, 2019. Alice Chevrier, specialist of rare books and manuscripts with Christie's, has been preparing the book for the auction. She told me what is was like to deal with such a rare edition and to do research on its background. Our common position: a heart for Wilde and his prose!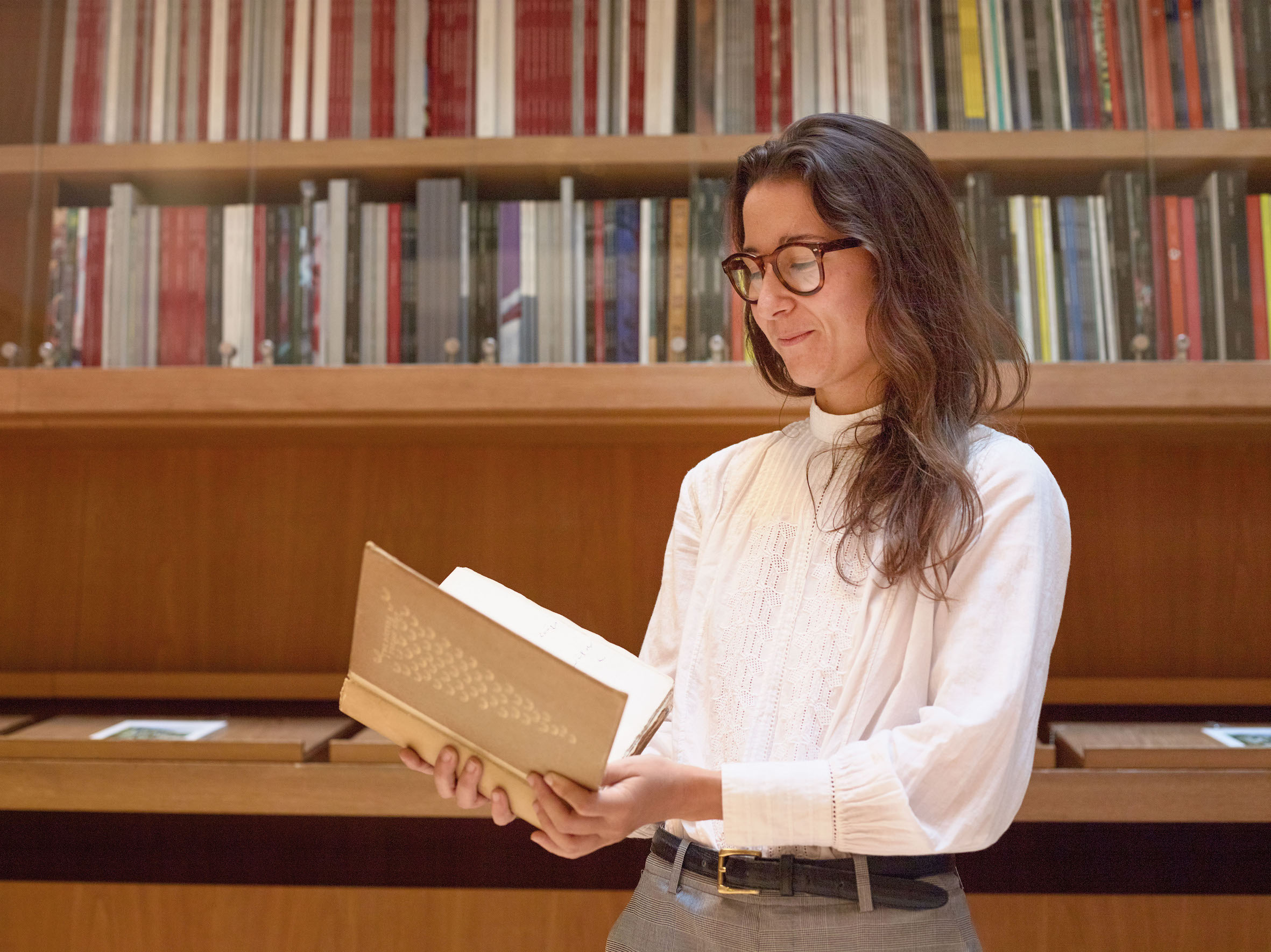 Paris in fall. Alice Chevrier is on her morning way to avenue Matignon in the 8th arrondissement between Champs Elysées and Rue du Faubourg Saine-Honoré. Her office is at Christie's Auction House. Christie's is world-famous for its auctions of rare art and antiques. On October 7, 2019, some rare books and manuscripts will be sold by auction, among them 16 handwritten letters by Marcel Proust – and a beautiful first edition of Oscar Wilde's The Picture of Dorian Gray. Estimation: 30,000 t0 40,000 Euros.
"Given to Pierre Louÿs by his friend Oscar Wilde in London in June"
It is a special lot. Number 74 of 250 first copies was signed by Wild in 1891 and dedicated to Pierre Louÿs (1870-1925) to thank Louÿs for his revision of the book's manuscript. The men had met each other in 1891. The friendship between Oscar Wilde and Pierre Louÿs was as short and fruitful as it was strained, as Alice Chevrier tells me.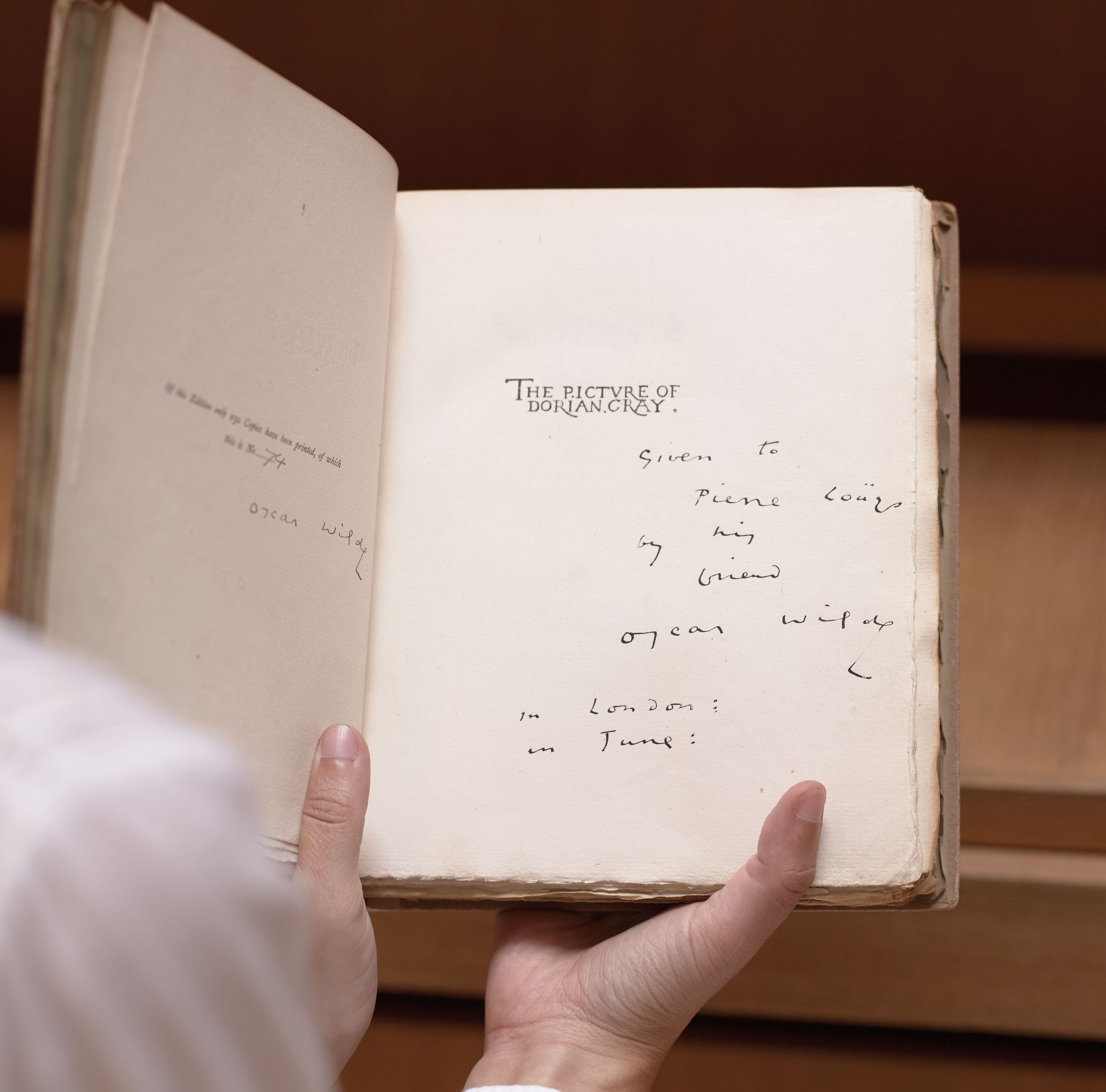 There's a buzz of activity in Alice Chevrier's department, "Books and Manuscripts" at Christie's. Nevertheless Alice has taken the time to answer some of my questions regarding the rare edition.
Alice, which role do you play in the upcoming auction of the special first copy of Oscar Wilde's only novel The Picture of Dorian Gray?
I have made the research on this copy, searching for information about the relationship between Oscar Wilde and Pierre Louÿs and the importance of The Picture of Dorian Gray on Oscar Wilde's work. Since it's a deluxe first edition copy, I also looked for information about the design of the book by Charles Ricketts, and the provenance of this copy. I also gave the indications to the photographers. Then, I wrote the text one can read in the catalogue. During the auction, I will be on the phone with clients, bidding for the lots. I hope to have the pleasure to bid for a client on this lot!
How did Christie's find out about the existence of this book? Did you establish a contact to the family of Pierre Louÿs?
We were contacted by a client who owns this copy. Unfortunately, I can't say more about the provenance, for confidentiality reasons.
How would you describe your role as a cataloguer? Did you decide to work on this edition before it will be sold by auction on October 7?
My role as a cataloguer is precisely to work on the lots to be sold at our upcoming auctions. We are three specialists working in the "Books and Manuscripts" team, so we indeed "share" the lots to catalogue, trying to satisfy everyone because each of us has fondness. In general, I can spend one day cataloguing, another day at a client's home doing an appraisal, and sometimes I am with the graphic designer to create the catalogue draft. It depends on the need of the day, but it's precisely what I like in this position.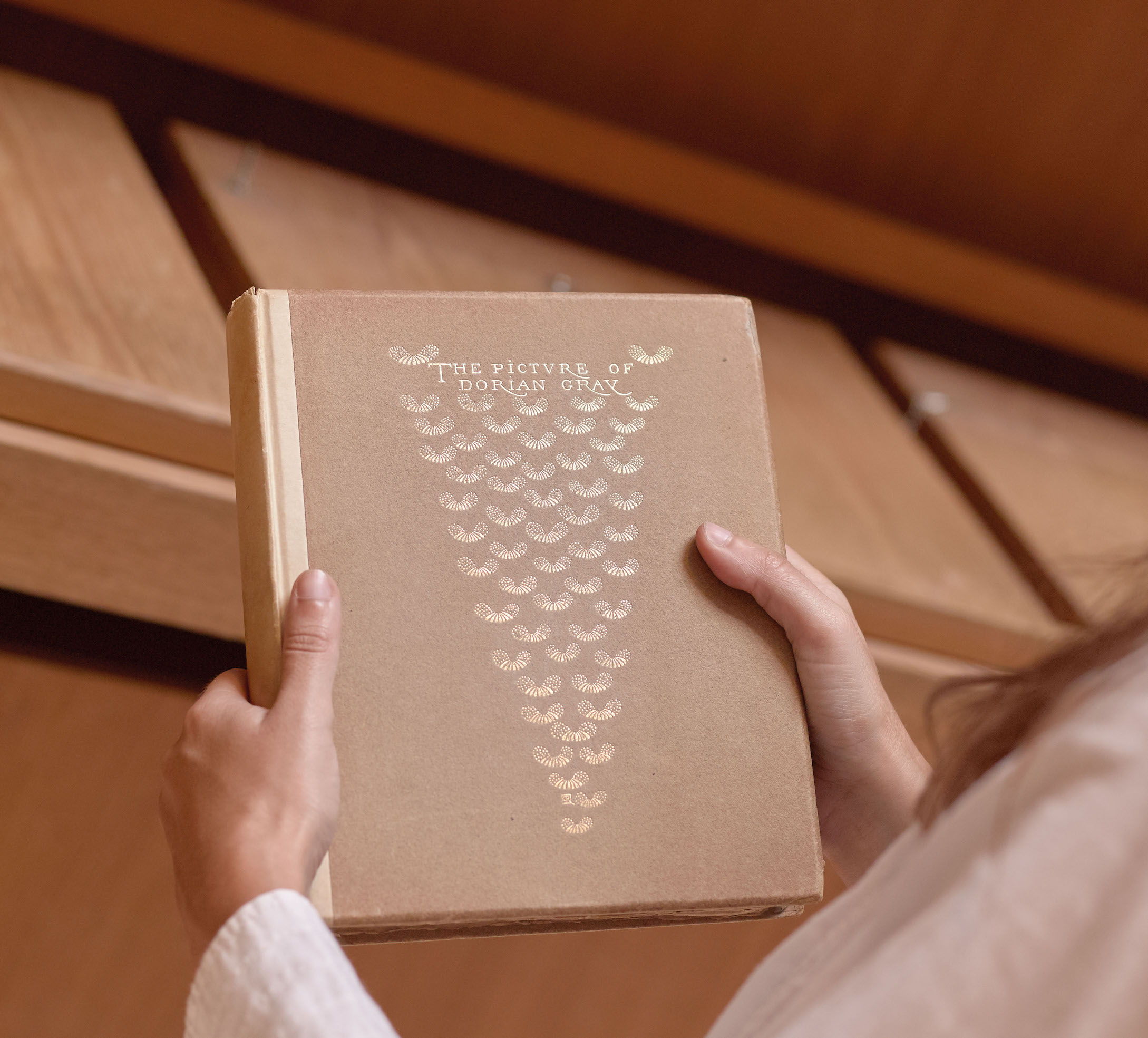 Wilde's dedication in the book, 'Given to Pierre Louÿs by his friend Oscar Wilde in London in June', once more reveals the deep tragic of his private life and his friendships, severely clouded by his homosexuality. How did you proceed in doing a deeper research on the relation between Wilde and Pierre Louÿs?
It was hard to find any information on their relationship, since they were friends only for a few years. Thus, I focused my research on the correspondence between the two authors, also I helped myself with some biographies of Pierre Louÿs and Oscar Wilde. I also tried to find the other dedicated copies of The Picture of Dorian Gray, to see to whom Oscar Wilde chose to send his deluxe copies.
Would you consider this a real friendship? Had Louÿs played a deeper and meaningful part in Wilde's life though they had not known each other for long when the book with the dedication was published?
As strange as it can seem, I think it was actually a real friendship, based on mutual admiration: Oscar Wilde asked for Pierre Louÿs' advice when he was writing Salomé in French whereas they met for the first time just a few months before; later, Pierre Louÿs translated a poem by Wilde addressed to his lover Alfred Douglas. So, they were carefully reading each other's work. Pierre Loüys attended Oscar Wilde's funeral which is the proof that even years after he stopped contacting him, their friendship was still important to him.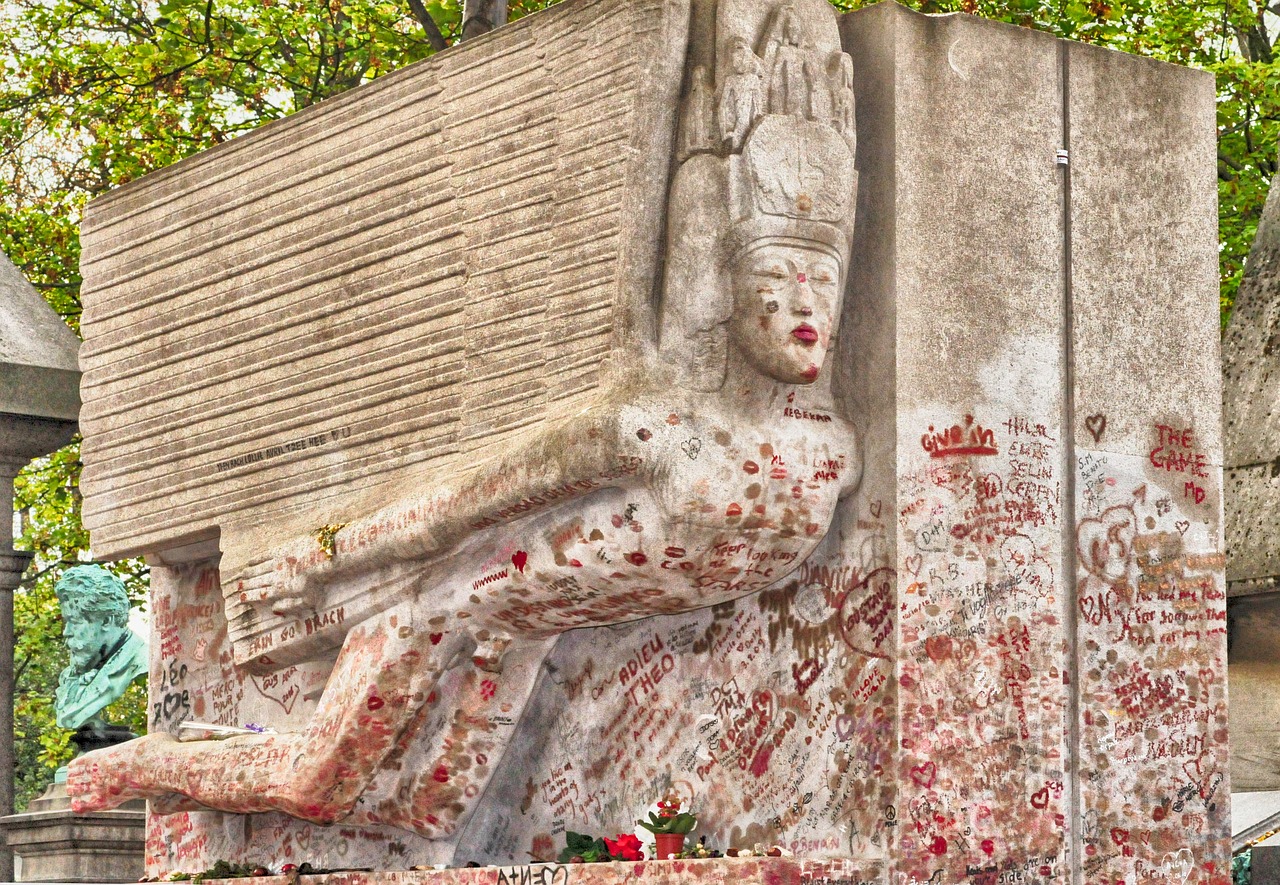 The edition is no. 74 of 250 signed copies. It was printed on a harder, relatively rough paper (vellum paper). What did this reveal to you as an expert?
This copy is printed on vellum paper. This characteristic is quite normal, given it's a deluxe copy. The deluxe copies always have the following characteristics : the print run of the deluxe copies is always limited (here it is 250 copies, sometimes it can even be 50 or less), they are printed on deluxe paper (here it's vellum, sometimes it's Japan or China paper), and their original cover is generally more decorated than the regular copies. Lucien Graux's ex-libris is a proof of the provenance, and helped me to determine where this copy comes from.
Do you like the works of Oscar Wilde? What does The Picture of Dorian Gray mean to you personally?
I'm actually an enthusiast reader of Oscar Wilde myself! I read The Picture of Dorian Gray as a high school student, and I read it another time a few years later. I liked Oscar Wilde's style, the psychologies of the characters, even the background of the story. Nevertheless, I didn't know that much about his life and his friendships. I was very happy to have the opportunity to work on such a copy and to learn more about this writer!
Is there a special type of prospective buyer you have in mind who will acquire the book? And do you think the value of such a copy might rise further?
I think such a book may interest a lot of different buyers: institutions, universities, but also private buyers of both English and French literature. The value of such a copy can rise further since Oscar Wilde is more and more studied and read. An important exhibition about him took place in the Petit Palais in Paris in 2016, proving the rising importance of Oscar Wilde in France.
One last question. Do your surroundings, and the access to rare and special book editions, shape or change your approach to books in general?
I think this position as a rare books and manuscripts specialist changed my approach to books by giving me the opportunity to get to know more authors – and want to read them. Some people think my colleagues and I read every book I work on -unfortunately no! Working on fantastic first-edition copies and manuscripts also helped me to understand the creation of a book, and to get an insight of the intimacy of the act of writing. Studying handwritten drafts is always a moving experience through which I can get the feeling to be in the head of the writer, following his crossing-out or changes in the text.
My best wishes for the upcoming auction, dear Alice!
Alice Chevrier studied classes préparatoires littéraires ("hypokhâgne-khâgne"), a French 2-years degree in humanities and literature, before graduating from Audencia Business School. At the same time she studied art history in Paris (bachelor and master). During her studies she had the opportunity to work at the books and manuscripts departments in an auction house as an intern. She loved this experience and later I decided to apply for the position of cataloguer at the books and manuscripts department of Christie's. "And I was lucky enough to get hired!"
Oscar Wilde (1854-1900) was an Irish poet, playwright, and critic. After graduating from Oxford University, he lectured as a poet, art critic and a leading proponent of the principles of aestheticism. In 1891, he published his novel The Picture of Dorian Gray which was panned as immoral by Victorian critics, but is now considered one of his most notable works. His works contained topics like decadence and hedonism of the British upper class and, as such, revealed problematic Fin-de-Siècle mood of late Victorianism. Wilde led an unconventional life and had a love affair with a young man which led to his arrest on charges of "gross indecency" in 1895. Five years later, he died as an ill and impoverished man in Paris.
The Picture of Dorian Gray, his only novel, was published in 1891 with Ward Lock and Co. in London. It illustrates the life of a young man who becomes a part of the fin de siècle high society. The young and innocent Dorian Gray is torn between two male admirers, the amoral Lord Henry Wootton and the virtuous painter Basil Hallward whose muse and object Gray is. Becoming more and more narcissistic, for his own youth and beauty is constantly praised by others, Dorian Gray gives up his soul and turns out to be his own artificial double, the one Basil Hallward painted in form of a portrait.
Information:
An average (but beautiful!) edition of "Dorian Gray" is available in your bookshop, for instance published by Penguin (2012, ISBN: 9780141199498) or, in a great translation to German, by insel Verlag (2015, 9 Euro, ISBN: 978-3-458-36084-1).